One Stop Shop For All Web3 Events Happening In The Arab World.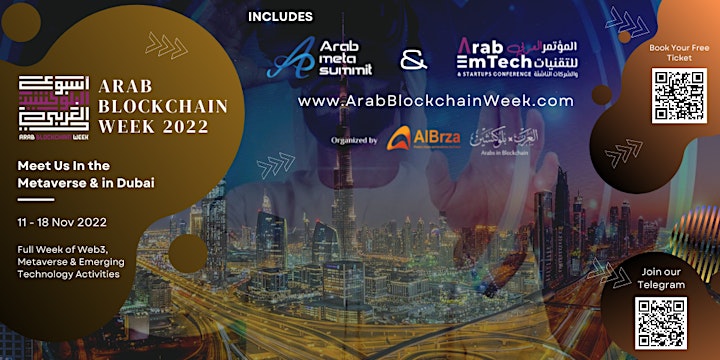 بعد نجاح أسبوع البلوكتشين العربي ، ندعوكم إلى حضور أسبوع البلوكتشين العربي 2022 ، الذي سيُعقد في الفترة من 11 إلى 18 نوفمبر حيث يضم أفضل الخبراء والرواد في المجال لمناقشة البلوكتشين والميتافيرس.
يلتزم أسبوع البلوكتشين العربي بأن يكون حياديًا في مجال اسبوع البلوكتشين العربي ويركز على التعليم لدفع التبني الجماعي من خلال توفير معلومات مباشرة عن الصناعة.
ندعو المشاريع والأفراد وأي شخص مهتم بالمناقشات المثمرة والتعليمية للانضمام إلينا تقريبًا في الفترة من 11 إلى 18 نوفمبر 2022.
Following successfully organized Arab Blockchain Week 2021 we are inviting you to Arab Blockchain Week 2022, taking place in November 11th to 18th to bring together the industry's best players and pioneers to discuss blockchain technology, cryptocurrency, DeFi, NFT, Metaverse, Web3 and more. Hear from the newest and innovative companies changing the world with exciting keynotes, panel discussions, fire-side chats, and workshops.
Arab Blockchain Week is committed to being blockchain agnostic and focusing on education to push mass adoption by providing first-hand information about the industry.
Please keep it educational, try to be as cost-friendly for the community as much as you can, respect other events and minimize overlap and create a welcoming and inclusive environment, so interested parties at any knowledge level feel comfortable to join.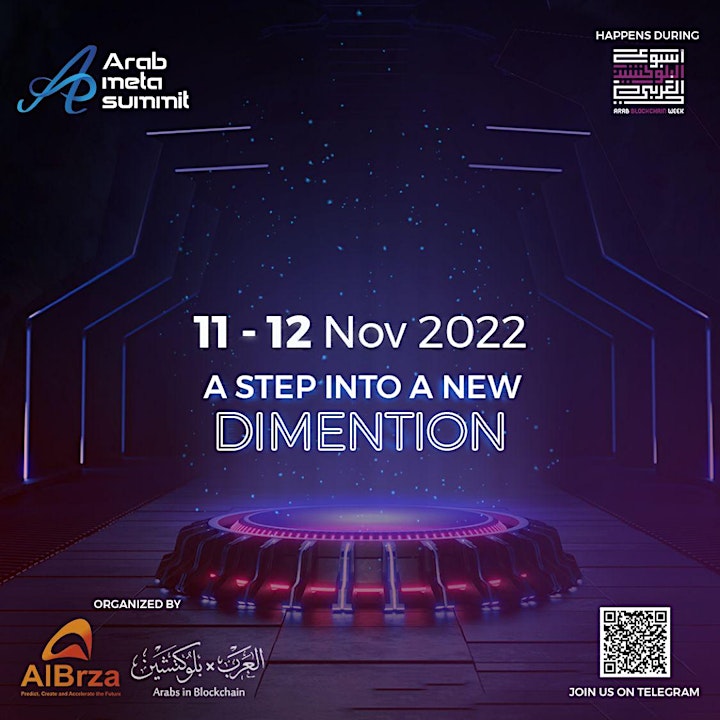 The week starts with the Arab Meta Summit
The Arab META Summit – a Real Metaverse, global summit conference to be held on 11th -12th Nov 2022, for connecting blockchain gurus, tech players such as startups and large enterprises, government authorities, IT leaders, tech entrepreneurs, investors and developers from diverse sectors including Gaming, 3D, VR/AR, Web3 & Blockchain, Art & Fashion, Social platform & Digital identity and beyond, to come together to BUILD a decentralized future powered by Web 3.0 with real experience of Metaverse.
The 2days Live in actual Metaverse world hosts a wide variety of activities happening live in the 1st actual Metaverse including talks, panel discussions, and tech talks by top entrepreneurs and experts. The exhibition hall will host companies, startups,s and project showcases, an occasion to network and find business opportunities.
The Summit will connect Arab & Global Metaverse experts and technology providers with executives Level ( CEOs, Chief Creative Officers, Directors of Metaverse Engineering, Chief Metaverse Officers, CMOs, Chief Product Developers, and Chief Innovation Officers ) — all under one Verse.
A variety of topics & use cases are to be discussed during the summit this year, from the trends, and challenges in technology implementations that will eventually determine the future of virtual reality and its applications. The purpose is to explore and build the future of the metaverse together.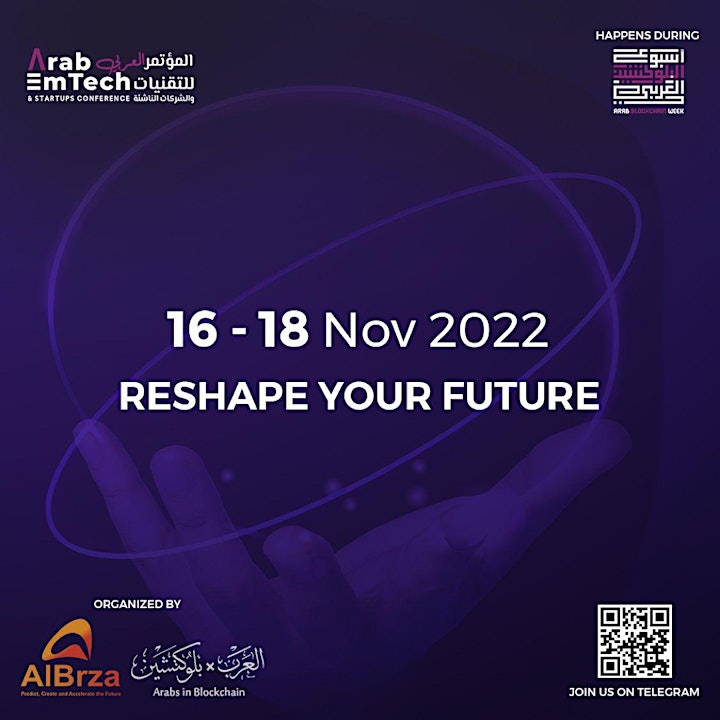 3 days Hybrid conference that focuses on gathering technology business leaders, Startup industry experts, and academic leaders, shaping the future of EmTech & startups in MENA region. The conference facilitates a unique and elaborate learning experience for key stakeholders in Emerging Technology domains. Participants maximize opportunities for partnering while engaging with global thought leaders at the conference.